About

Natural wellness, health, beauty and fashion are dominating themes that play a salient role in my life. I changed my lifestyle for good by learning very simple tips and tricks to compliment my admiration for these dominating themes. If you want to incorporate health, beauty, natural wellness into your lifestyle, and learn more about the world of fashion then I'm glad you've come across my page. (What a relief!) I'm here to help. Join me and keep up with my blog. XO
"Don't wait for the perfect moment, take the moment and make it perfect."
Powered by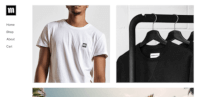 Create your own unique website with customizable templates.